Agriculture Internship at Spannocchia
Live and Learn on a Tuscan Farm
Spannocchia has offered a unique farm and agritourism internship program for more than 25 years, hosting hundreds of interns from around the world.
Our farm internship program is dedicated to enriching the lives of young people by providing them with a unique, educational experience on a community-oriented organic farm in Tuscany, Italy. Participants learn about regenerative farming and animal care, conservation, maintenance and restoration, Italian language, and local cultural history.
Three internship sessions are held annually: Spring, Summer, and Fall.
Eight interns per session work alongside our Italian farm staff to help run our diversified organic farm and agritourism in rural Tuscany.
Interns acquire knowledge and practical skills through the involvement with daily operations of Spannocchia.
---
"When I arrived at Spannocchia I was put to work in the orto with Carmen. The most experience I had with horticulture up to that point was buying and subsequently killing a basil plant. But under Carmen's unfailingly patient tutelage, I began to learn the joy of seeing something start as a tiny seed and grow into our dinner. My time at Spannocchia taught me to appreciate where my food comes from and how important it is to teach future generations to treat the food we eat with respect."
– Laura McMahon, Former Intern
---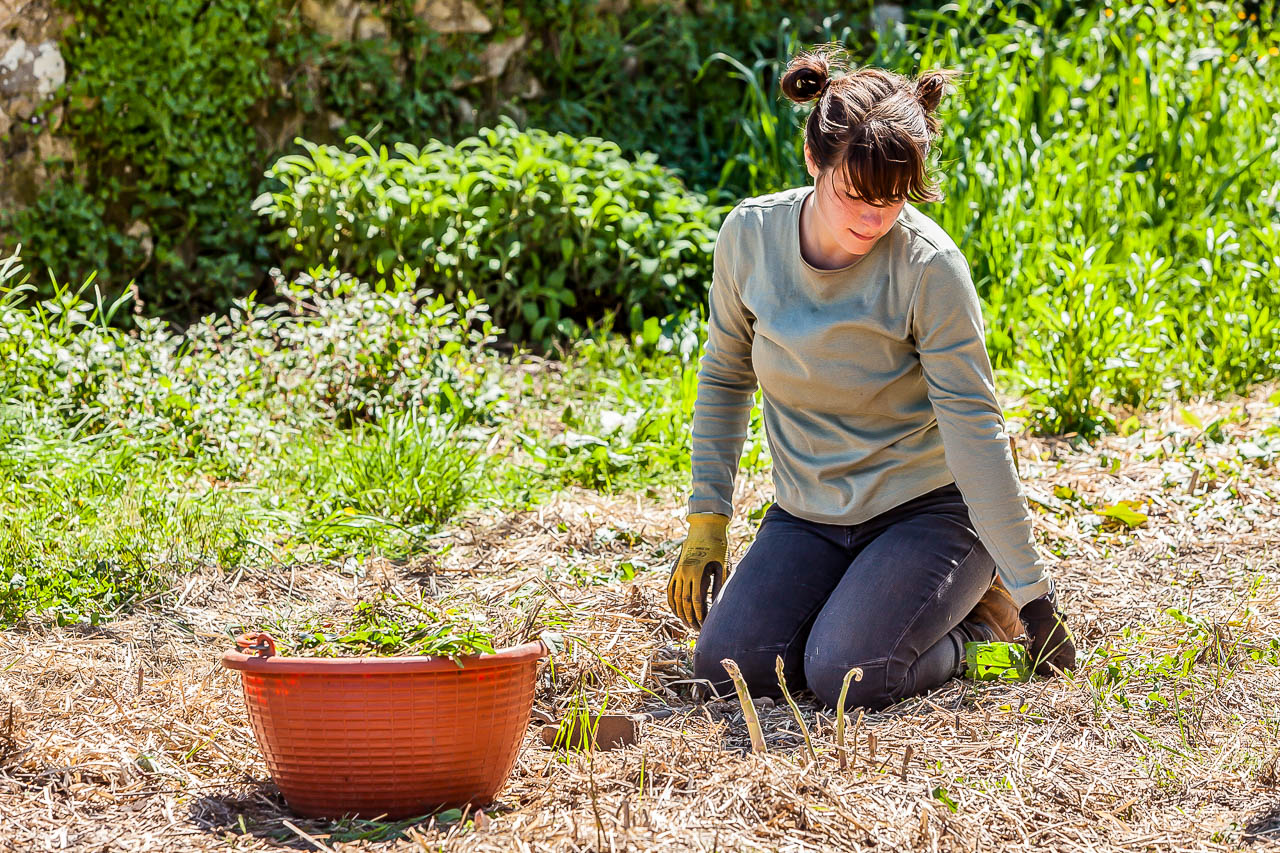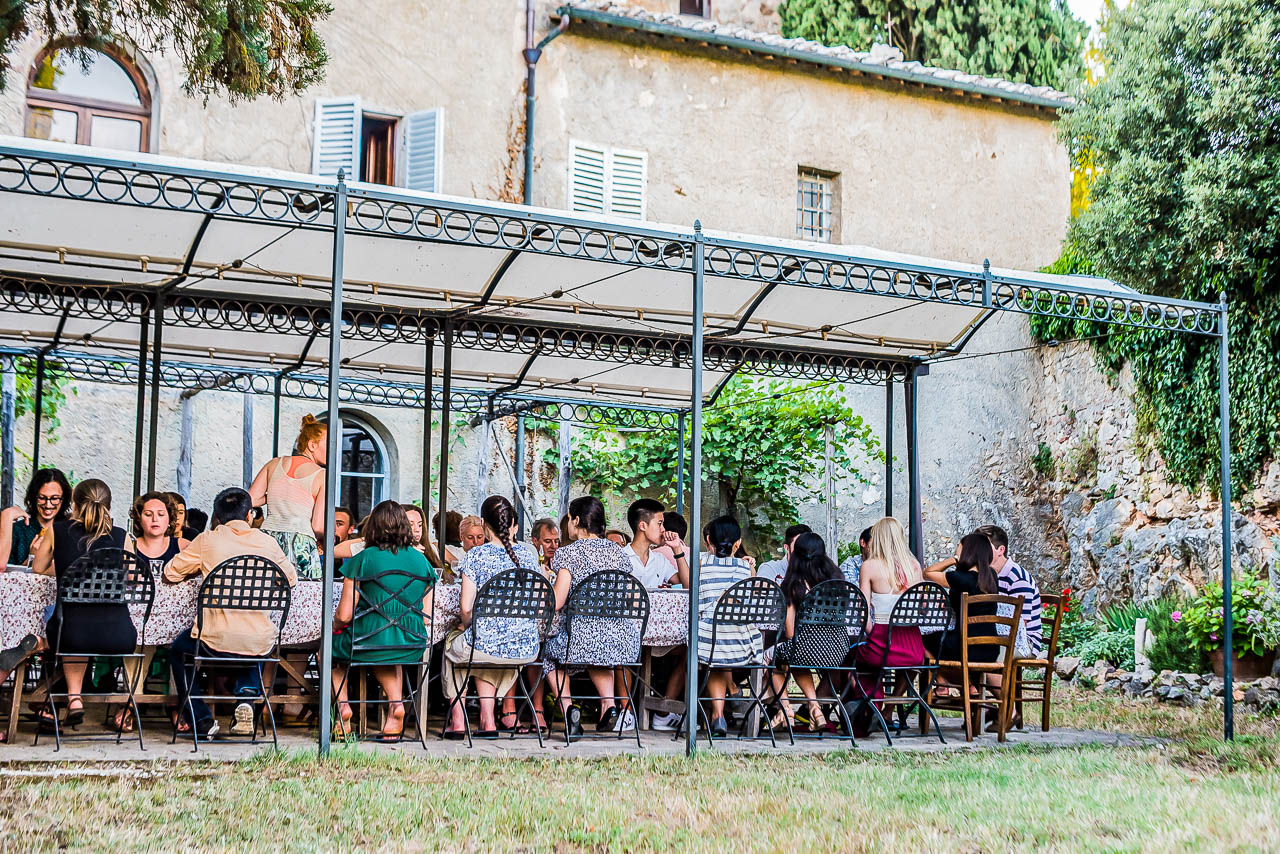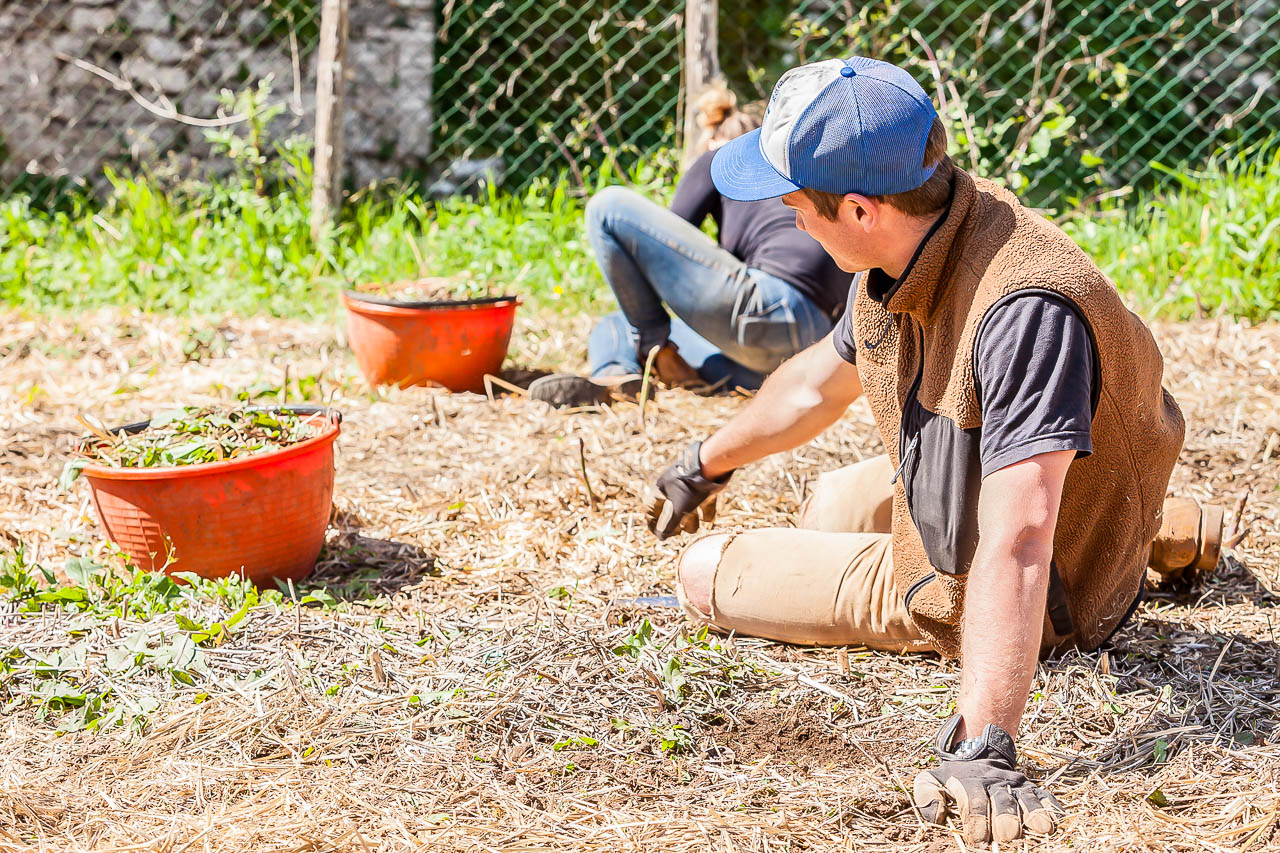 Our interns spend a portion of the work week participating in various planned educational activities. These activities are interspersed throughout the week and include educational presentations such as wine tastings, olive harvesting, and salumi production, as well as field trips to local areas of interests. Trips may include a visit to nearby Siena to experience the famous Palio or a visit to a local cheese farm to test their nuovo pecorino. Site visits to neighboring organic production facilities, farms, and vineyards are carefully selected to provide interns with the opportunity to learn about traditional Tuscan values of food production as well as new techniques utilized to help protect and conserve land in the area.
Italian classes are held once a week for a total of two and a half hours weekly. The classes are geared mostly toward beginning conversation/grammar and enable interns to communicate in Italian more effectively both at work and while traveling.
All meals are provided Monday through Friday, and most Sunday dinners as well. Our interns eat dinner in the main dining room of the Villa, along with various community members and guests. Meals encompass the farm-to-table experience as vegetables harvested in the garden are generally served that evening for dinner. Wednesday evenings are particularly special at Spannocchia with pizza night from our outdoor brick oven or Nostra Cena, a traditional meal focused on seasonal products.
---
"The three months of my Spannocchia internship were an education. I learned that the difference between two identical slabs of prosciutto can be discovered by sniffing a hollow horse bone inserted into the center. I learned that knowing where your food comes from can be as simple as a square of red earth. Most importantly, I learned that there is a pace of life that can just feel right and that I would want to make it my job to find it for myself one day."
– Patrick Schultz, Former Intern
---
Our interns live on site in Casa Pulcinelli, a large farmhouse located in the Castello complex. Casa Pulcinelli has seven bedrooms, three shared bathrooms, and a fully equipped kitchen.
Interns live in double-occupancy rooms, share all meals together, work together, and often spend free time together. The interns have use of a vehicle one afternoon a week for a trip to neighboring town of Rosia for grocery shopping.
There are a number of recreational possibilities at Spannocchia including hiking trails, dirt roads for running, forests for foraging wild herbs and mushrooms, and a swimming pool. Interns also enjoy learning to cook Tuscan cuisine and making homemade preserves from fresh fruit on the farm. The views of the countryside and surrounding farm inspire painting, drawing, and other forms of artistic expression.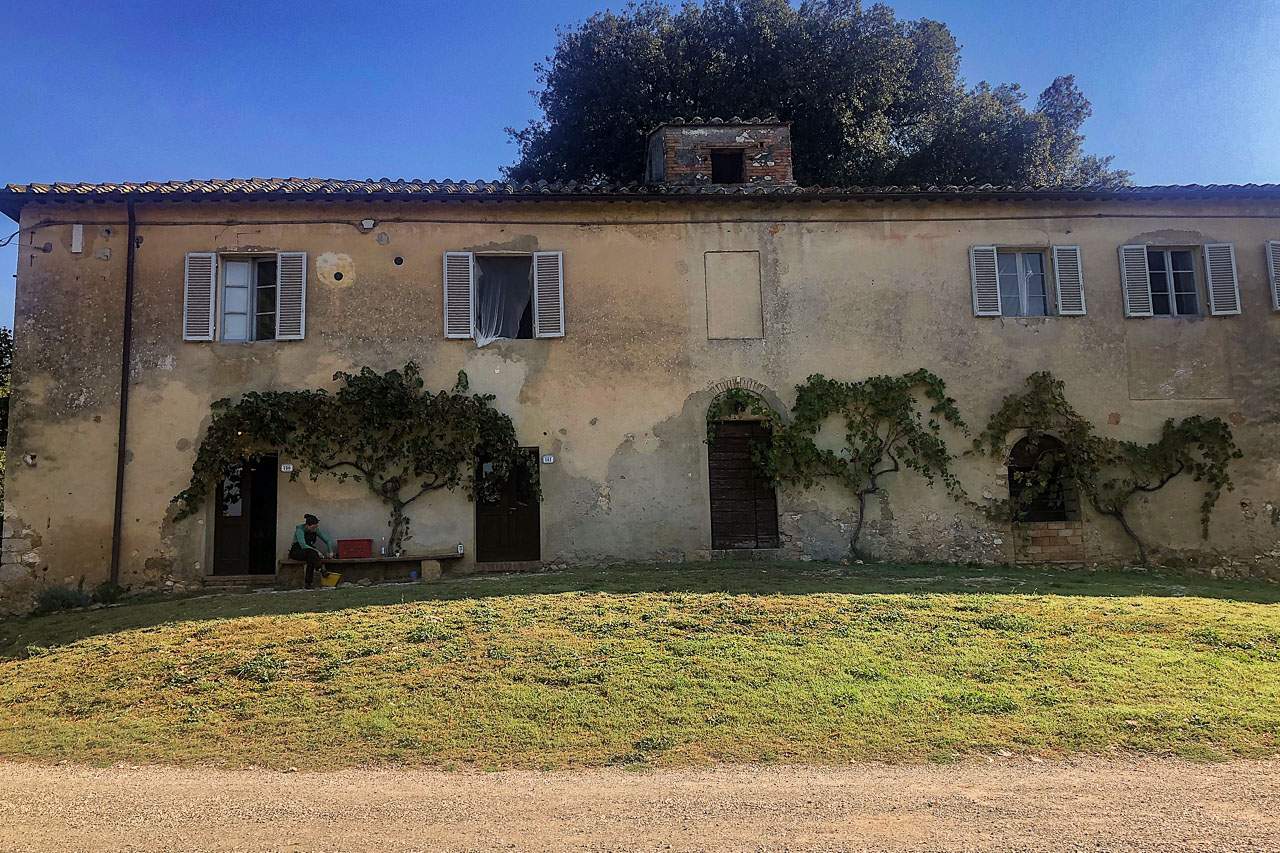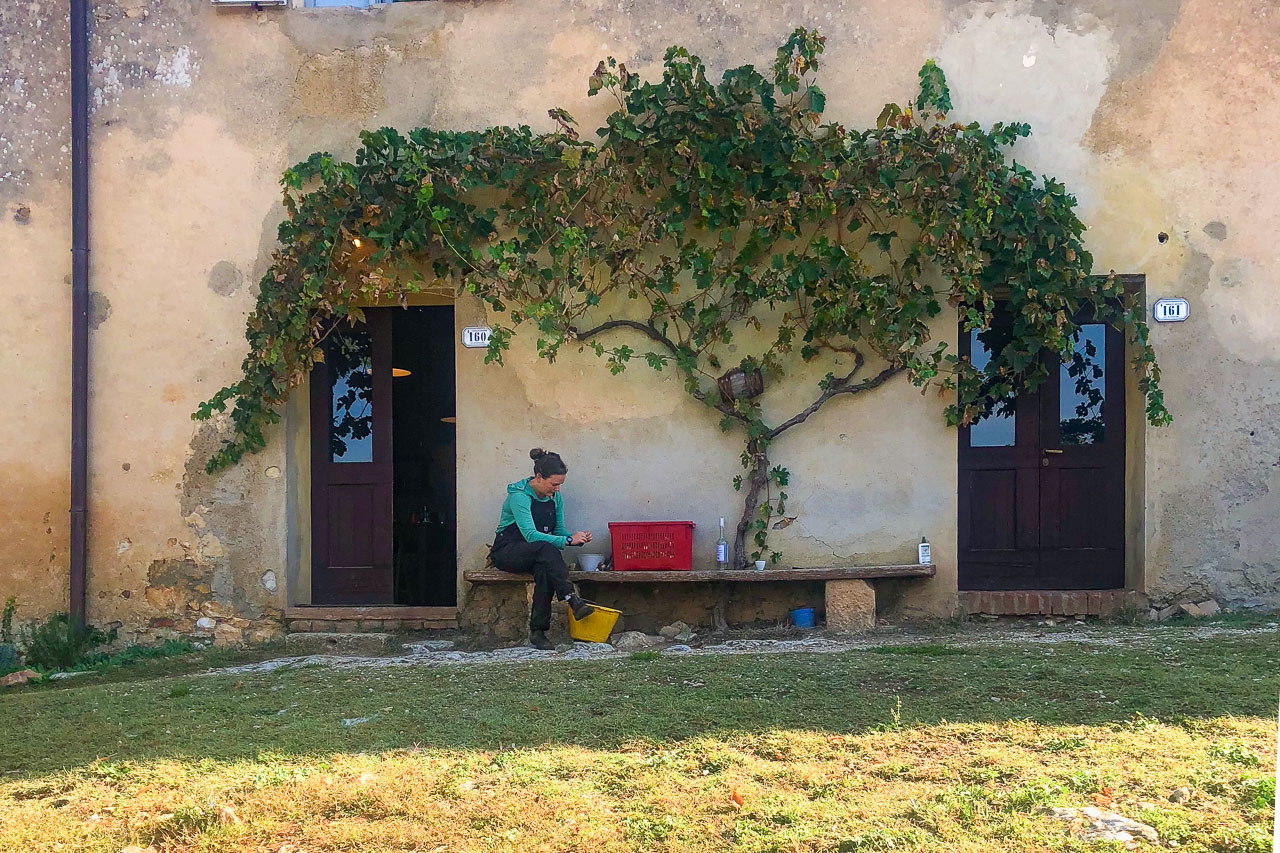 The farm and agritourism internship program is based on a 45-50 hour week. Approximately 35 hours are devoted to farm/maintenance work and 10-15 hours are devoted to the educational component of the program. Interns rotate helping with dinner service and weekend farm work.
Time
Lunedì
Martedì
Mercoledì
Giovedì
Venerdì
Sabato
Domenica
8:00 to 1:00
Farm Work
Farm Work
Farm Work
Farm Work
Field Trip
Free Time
Free Time
1:00 to 2:00
Lunch
Lunch
Lunch
Lunch
Picnic
2:00 to 5:00
Italian Class
Educational Presentation
Farm Work
Farm Work
Italian Class
Educational Presentation
Field Trip
5:00 to 7:00
Free Time
Free Time
(Van available for trip to town)
Free Time
Free Time
Free Time
7:00
Wine on the Terrace/ Dinner
Wine on the Terrace/ Dinner
Wine on the Terrace/ Dinner
Wine on the Terrace/ Dinner
Wine on the Terrace/ Dinner
Wine on the Terrace/ Dinner
Interns acquire knowledge and practical skills through involvement with the daily operations of Spannocchia. Farm work can be extremely rewarding, as there are opportunities to learn new skills and interact closely with Italian workers, who can provide a wealth of knowledge about Tuscan farming techniques and cultural traditions.
The major areas of the operation are: animal care (working with pigs and cows), vegetable gardens (planting, watering, hoeing, harvesting), vineyards and orchards (weeding, tying, pruning, harvesting), and maintenance (landscaping, stacking wood, pool maintenance, building repairs). Interns are assigned to a specific work area for the session and devote most of their time there.
---
"From daily dinners, adventurous leftover lunch experiments, made-up holidays, never-ending aperitivos, stolen cake from the kitchen, late night cheese plates and pizza nights with tears, food at Spannocchia changed my life. But mostly it was the people I shared it with. Our community and our work gave me the feeling of being part of something important. This group of people with such different backgrounds and cultures – but united by their love for food and motivated by the example of a better and sustainable world of food – showed me that with passion and solidarity we can make our global food system a better one."
– Lea Ligat, Former Intern
---
Internship Dates, Program Fees & Application
As the COVID-19 pandemic continues to affect countries around the globe, we have regrettably decided not to hold our Internship Program in 2021.
We're saddened to not be able to welcome these special members of the Spannocchia community this year, but we recognize the health and safety of our farm staff and residents, as well as our potential interns, needs to be our priority. In the spirit of turning lemons into limoncello, we look forward to using this year to reexamine the program and explore opportunities for improvement. We're already excited as we envision the program in 2022 and beyond!
Stay tuned for more details by joining our mailing list: