Spannocchia accepts a limited number of individual volunteers as farm needs and space allow. Volunteers assist with a range of farm work and property maintenance, dictated by current projects, needs, and the season.
Farm work can be extremely rewarding, as there are opportunities to learn new skills and interact with our Italian staff, who can provide a wealth of knowledge about Tuscan farming techniques and cultural traditions. The major areas of the operation are: animal care (working with pigs and cows), vegetable gardens (planting, watering, hoeing, harvesting), vineyards and orchards (weeding, tying, pruning, harvesting), and maintenance (landscaping, stacking wood, pool maintenance, building repairs).
To volunteer at Spannocchia, you must be (or become) a member of WWOOF Italia (€35 annual fee). Please contact our Farm Education Director, Niccolò Merighi at farmprogram@spannocchia.org to learn more and discuss available opportunities.
Spannocchia is committed to doing our best to make the volunteer experience beneficial and also safe for everyone during the COVID-19 pandemic. Please review our current COVID-19 safety policies, and understand that we will expect you to abide by them and any other guidelines in place during your stay.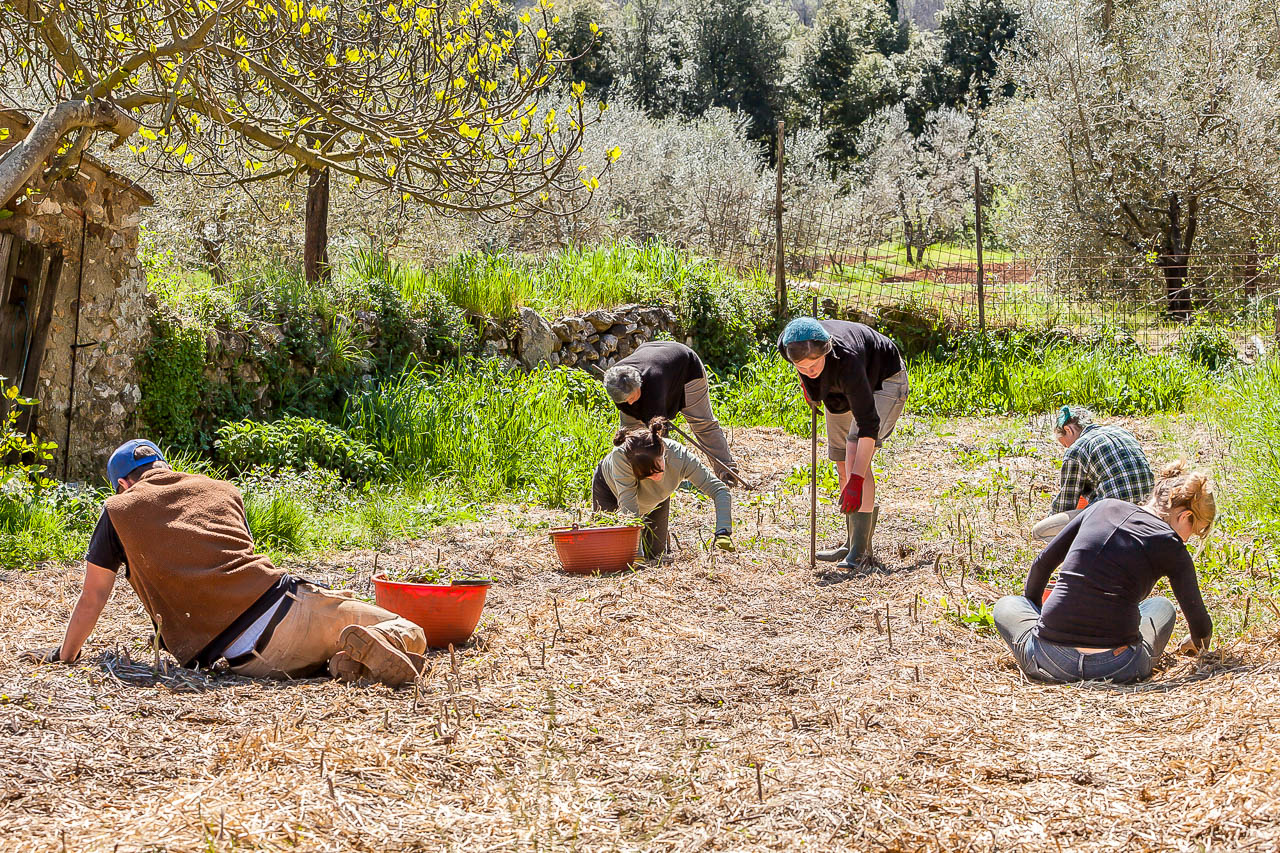 Please see the "COVID-19 Info & Policies" document for information about the current living and working arrangements and any changes we've had to instate due to COVID-19, as they may differ slightly from what is described here.
Our volunteers stay in Casa Pulcinelli, a large farmhouse located in the Castello complex. Casa Pulcinelli has seven bedrooms, three shared bathrooms, and a fully-equipped kitchen. Volunteers live in double-occupancy rooms with other volunteers, apprentices, or interns, share meals together, work together, and often spend free time together.
There are a number of recreational opportunities at Spannocchia including hiking trails, dirt roads for running, forests for foraging wild herbs and mushrooms, and a swimming pool when in season. The views of the countryside and surrounding farm inspire painting, drawing, and other forms of artistic expression.