We believe that the artisanal traditions of Tuscany can be preserved by providing learning opportunities for the next generation. Spannocchia offers two unique hands-on apprenticeship programs for people interested in learning the art of Italian salumi production or enhancing their culinary skills in a farm-to-table Tuscan restaurant. Our knowledgeable and experienced staff share their expertise and provide apprentices with an informal, intensive training. These immersive programs give participants practical experience and allow them to explore a unique career opportunity in a gorgeous and historic setting.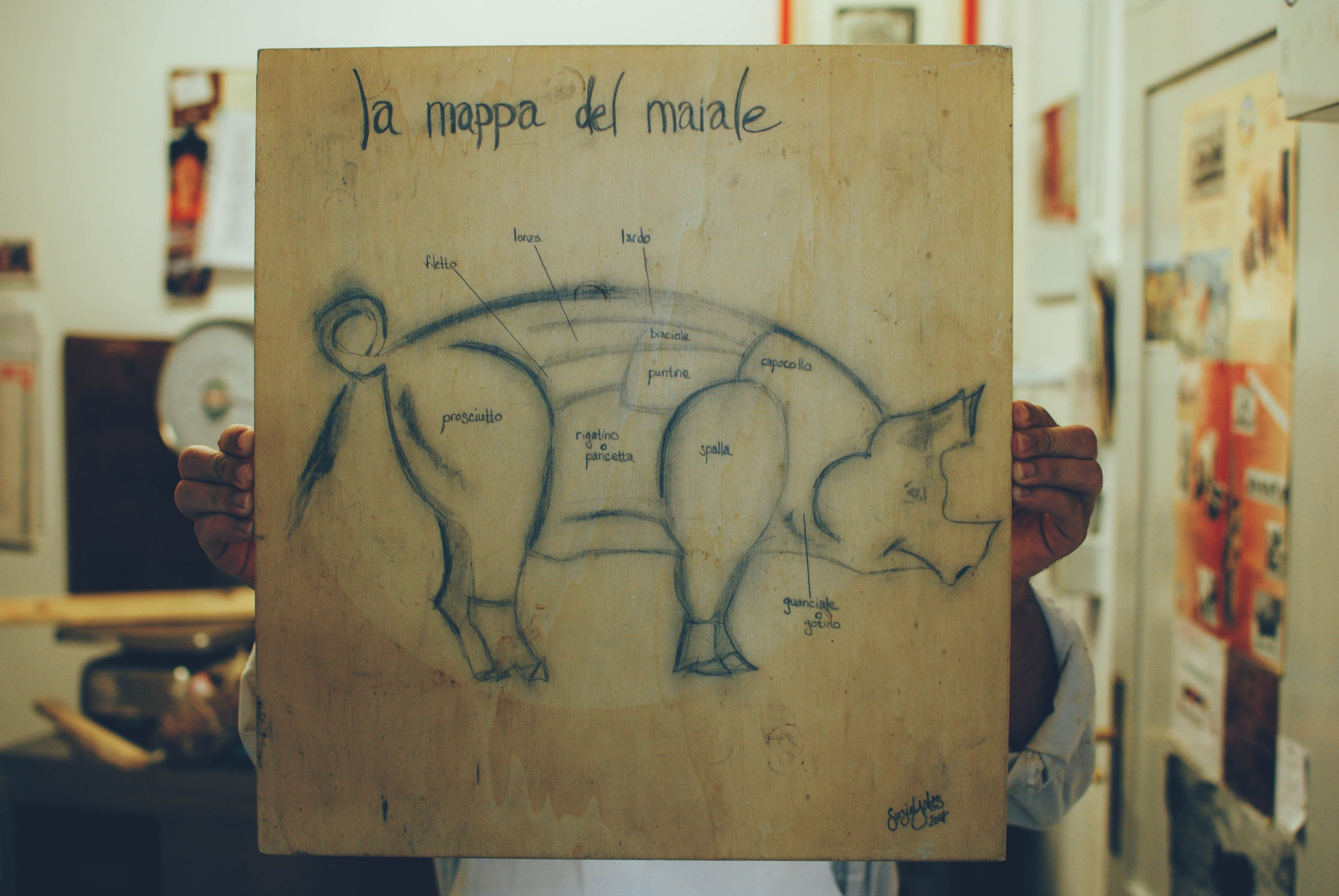 Spannocchia produces around 15 different types of salumi (cured meats) from the Cinta Senese pigs raised on our property. Named for their distinct white belted band (cintura), they are a rare heritage breed that was at risk of extinction. These animals are all raised in an extensive, semi-brado (semi-wild) state, with access to forage and pasture year round. The unique qualities of the Cinta Senese breed pigs raised in a free-range system guarantee the quality of our products, which our norcino (butcher) produces on-site according to traditional techniques and recipes, and without the use of preservatives like nitrates or nitrites. Many of the seasonings and spices used in our salumi production are also harvested on the property, like the wild fennel, bay leaf, and juniper berries.
Our apprentices go through butcher training by working alongside our butcher to learn all aspects of creating our award-winning artisanal salumi. Butcher apprentices will be exposed to all phases of production, from slaughter to the meat curing process to assisting at markets. Apprentices can expect to work approximately 45 hours per week and will have free time to explore other areas of personal interest as well as the Tuscan countryside.
While butchering can be physically challenging work, it is also extremely rewarding. There are opportunities to learn new skills and interact closely with the Italian workers, who can often provide a wealth of knowledge about Tuscan farming techniques and cultural traditions.
Butcher Apprenticeship Dates & Application Information
We are so pleased to be reinstating our butcher apprenticeship program in September 2021 after the past year was on hold due to the COVID-19 pandemic. Spannocchia accepts a total of eight butcher apprentices each year. Applications are reviewed on a rolling basis. You may apply for multiple sessions with the same application, and will be able to rank your session preferences on the application.
Butcher apprentices will work concurrently for a period of 85 days, approximately 45 hours per week in exchange for hands-on education, room and board. All volunteers will also be responsible for rotating chores to help maintain the Tenuta.
If selected, you must become a member of Friends of Spannocchia ($30 apprenticeship-level membership) and WWOOF Italia (€35 annual fee).
To prioritize the health and safety of the entire Spannocchia community, we are currently requiring all apprentices to be fully vaccinated before the start of their apprenticeship session. Thank you for your understanding!
---
I absolutely loved my days working with Riccio in the transformation room. I gained a comprehensive knowledge of both the science and the art of traditional Tuscan salumi. Riccio shared his deep appreciation and understanding of the entire life cycle of the cinta senesi. It was powerful to work with a butcher who so profoundly respects the life and sacrifice of these animals. The days could be long and the work hard, but we grew close and shared unforgettable moments. Few educational experiences have so clearly altered the course of my life. I am forever grateful. — Vincent Feucht, Former Apprentice
---
During the summer months, Spannocchia's orto (vegetable garden) offers a vast variety of fresh, organic fruits and vegetables—creating an incredible cooking experience for culinary professionals interested in providing farm-to-table meals and service. Pietrina, our head chef, has decades of experience managing a kitchen and utilizing native Tuscan ingredients in traditional and modern dishes. The focus of meals at Spannocchia is local and fresh with the evening menu often highlighting products harvested that day. Our Culinary Apprentice will have the opportunity to work alongside Pietrina learning the fundamentals of Tuscan cuisine in our family-style restaurant.
This apprenticeship is for chefs who are serious about improving their culinary skills and seeking an understanding of Italian cuisine at a deeper level. The program is also perfect for chefs trained to prepare different cuisine types and wishing to expand their skill set and learn how to properly prepare Italian cuisine. Applicants should have previous experience and training in a professional setting; however, this program is not for well-established chefs in leadership positions. The ideal apprentice will have an interest in learning more about farm-to-table and Italian cuisine, a willingness to learn Italian, and a desire to become a part of a unique Italian/American community during their stay.
Culinary Apprenticeship Dates & Application Information
As the COVID-19 pandemic continues to impact Spannocchia's agriturismo and restaurant, we will not be holding our Culinary Apprenticeship Program in 2021. We expect to resume in June 2022, accepting two participants for individual 8-week sessions between June and September.
Stay tuned for more details about our 2022 Culinary Apprenticeships, including application information and deadlines, by joining our mailing list:
housing for butcher and culinary apprentices
Please see the "COVID-19 Info & Policies" document (also linked above) for information about the current living and working arrangements and any changes we've had to instate due to COVID-19, as they may differ slightly from what is described here.
Our apprentices live in Casa Pulcinelli, a large farmhouse located in the Castello complex. Casa Pulcinelli has seven bedrooms, three shared bathrooms, and a fully-equipped kitchen.
Typically, apprentices live in double-occupancy rooms with other apprentices or interns, share all meals together, work together, and often spend free time together. Apprentices and interns have use of a vehicle one afternoon a week for a trip to the neighboring town of Rosia for grocery shopping.
There are a number of recreational opportunities at Spannocchia including hiking trails, dirt roads for running, forests for foraging wild herbs and mushrooms, and a swimming pool when in season. The views of the countryside and surrounding farm inspire painting, drawing, and other forms of artistic expression.